By Antonio Victor and Lakiesa Saunders
Moving On
When you think of memory in Grand Bahama, Hawksbill High School comes to mind a school that was filled with enthusiasm and unforgettable aspects such as the student body, faculty, and its popular location. Every Grand Bahamian of today's time is connected to the former Hawksbill High somehow, whether they attended the school or may be related to a former student or faculty member. Although the school was the biggest and most populated in Grand Bahama, the institute sadly closed its doors in the late 1990s leaving the grounds with buildings and a spacious land of memory for many as seen in figure 1. Since the closure, there were minor efforts made to reuse the vacant property such as adding a technical school and a church to a few of the strongest buildings available.
As time went on a Bahamian businessman decided to reuse a portion of the land by adding a cemetery, turning an unforgettable site of memory to a new historic site of mourning. Joseph Moss took this remarkable idea and manifested it into a graveyard called "West Gate Memorial Cemetery" there's no better way to commemorate the dead other than mourning there lost at such a fond site of memory that'll always be a part of Grand Bahama's history. The cemetery is located on the south portion of the land as seen in figure 2. This may seem like a bold move but Moss' idea was to make a cemetery that's located in-land accessible to members of the community after many graves were affected by the hurricanes between the years 2004-2010 giving families the option of a burial site that's affordable and close to home.
By Antonio Victor
---
As "We" Knew It
Hawksbill High, as known by today's generation, is nothing but empty land, a graveyard, and a church; however, back in the '80s and the '90s Hawksbill High was widely known throughout the island. This school contained at least 800 high-schoolers and left those students with experiences that they still remember even today.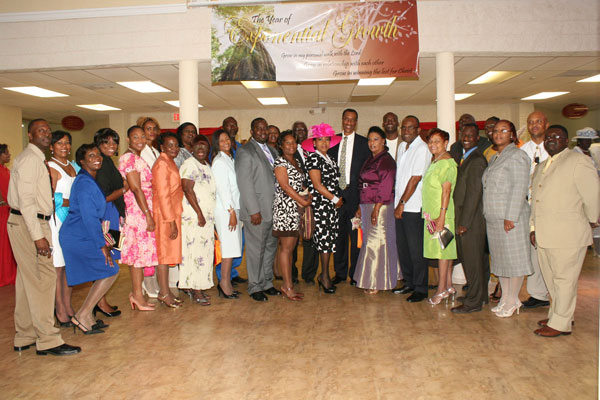 The alumni of Hawksbill High take pride in remembering their high school days: days of fun discipline, failure, and success. As they look back now, they long for those days in high school again mainly because life was simpler when all they had to worry about was not getting into trouble, getting good grades, and maintaining a good sports reputation. A few persons who were interviewed shared similar views of Hawksbill High. "One thing I remember about Hawksbill High was how we dominated in sports, and academics" (personal communication, October 23, 2018), is one common statement that was expressed throughout all the interviews of alumni.
Some alumni even remembered a time of getting in trouble for swimming in a blue hole which was not permitted because of a fatal accident the previous year. And others reflect on how school was an escape from her very sheltered household and she was able to let loose and be her complete self. Hawksbill high was even successful in having their own marching band which was well recognized across the island. the choreography and music were done by Mr. Robinson who had spent countless hours in practice teaching student not only to play the instruments but to entertain and perform as well.
By: Lakiesa Saunders